When traveling in a foreign country, finding satisfactory accommodation always gives all of us a headache. After following many travel bloggers who have been travelling in Vietnam, Askvietnamese prepared a list and would like to introduce these online accommodation websites which will help you a lot.
> LONG-TERM RENTAL
Amiroom - https://amirooms.com/
On their website, Ami displays real photos so that we are able to figure out what the rooms really look like or how big the rooms are. But we were impressed the most by the fact that Ami's service team is excellent. Whenever we contacted them every member was extremely helpful and thoughtful. They answered every question in detail and gave us good advices. Although there are not many rooms listed on the website, they made us feel very comfortable just talking to them. We think It is good for those who want to rent a room for one, two or three months.
Mystay.vn - https://mystay.vn/
Mystay mostly serves local housing demands. They have many rooms for rent in almost every district in Saigon. There are various types of rental services such as renting a room in a house, an apartment or a whole big house. Before deciding which house we wanted to rent, Mystay will invite us to come and see the it. This is the highlight point of Mystay that we would like to share with you as it helped us choose the best option for us.
> SHORT-TERM RENTAL
Vntrip - https://www.vntrip.vn/
Vntrip is quite similar to booking.com in that they have lots of hotels all over Vietnam. We can sort our stay by area, service and property type and price range as well. However, what makes us really want to book on vntrip is that the prices are totally localised. Prices are lower than booking.com for sure. Some of my friends love using vntrip.vn because they can book a combo of hotel and flight ticket, as the cost is always lower than booking them separately. Askvietnamese highly recommends this website to students and backpackers.
Tagahome – www.tagahome.com
Born in 2015, Tagahome is mostly providing serviced apartments. Even though these are located in the tourist areas such as district 1, district 3 and district 4 but it is not noisy at all. Tourists have recommended Tagahome because of their quiet apartments and cosy spaces. To us, it is suitable for couples or a family who love quiet but don't want to be far away from the city. One advantage of Tagahome is the staff speak English very well and are helpful supporting tourists during their stay. They are also good at interacting between owners and customers, looking after the customer carefully. They are rated as good place, good view and good host. Ten out of ten people loved their houses a lot.
Luxstay – www.luxstay.com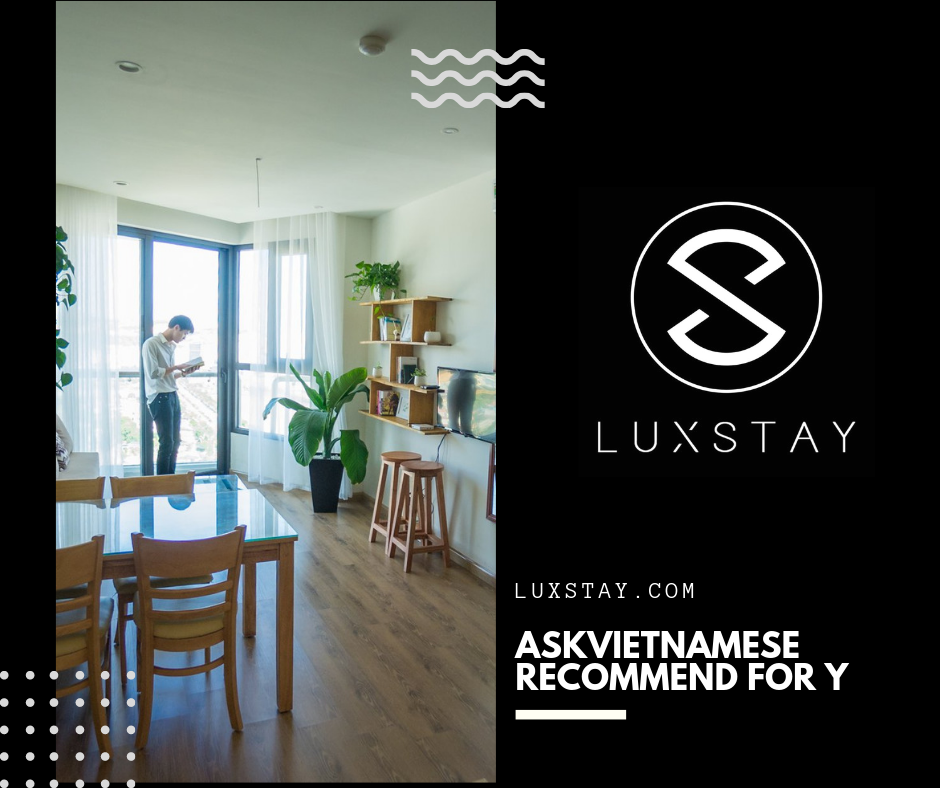 Did you expect so much more from the hotel on your last vacation? What percentage did you give for your stay? How many percent points did you give for the of the likeness similarity between the online hotel picture and the hotel in real life? This is the question that we always ask ourselves when we book an accommodation. We know you all have the same worry as us. So that we would like to recommend you to go with Luxstay. Luxstay mainly concentrates on luxurious accommodation such as penthouses, villas and resorts. We can also find several hostels and homestays on Luxstay but of course the rental cost is higher than the average price. Our first impressions:
Accommodation facilities and amenities are mentioned in detail
Every room rate is listed meticulously such as room rates on weekends, room rate on weekdays, additional guest fee and cancellation policy
Friendly interacting mobile app. We can easily book via mobile. There are lots of accommodation booking websites in Vietnam, Askvietnamese has experienced use of above list of websites. We hope that you will have your prefect stay in Vietnam by booking through one of our recommendations.