To put your hand or another part of your body lightly onto and off something or someone, touching is such a divine step to feel the world upon us. Let's see what are waiting for us in Saigon!
1. Spa Quê Một Cục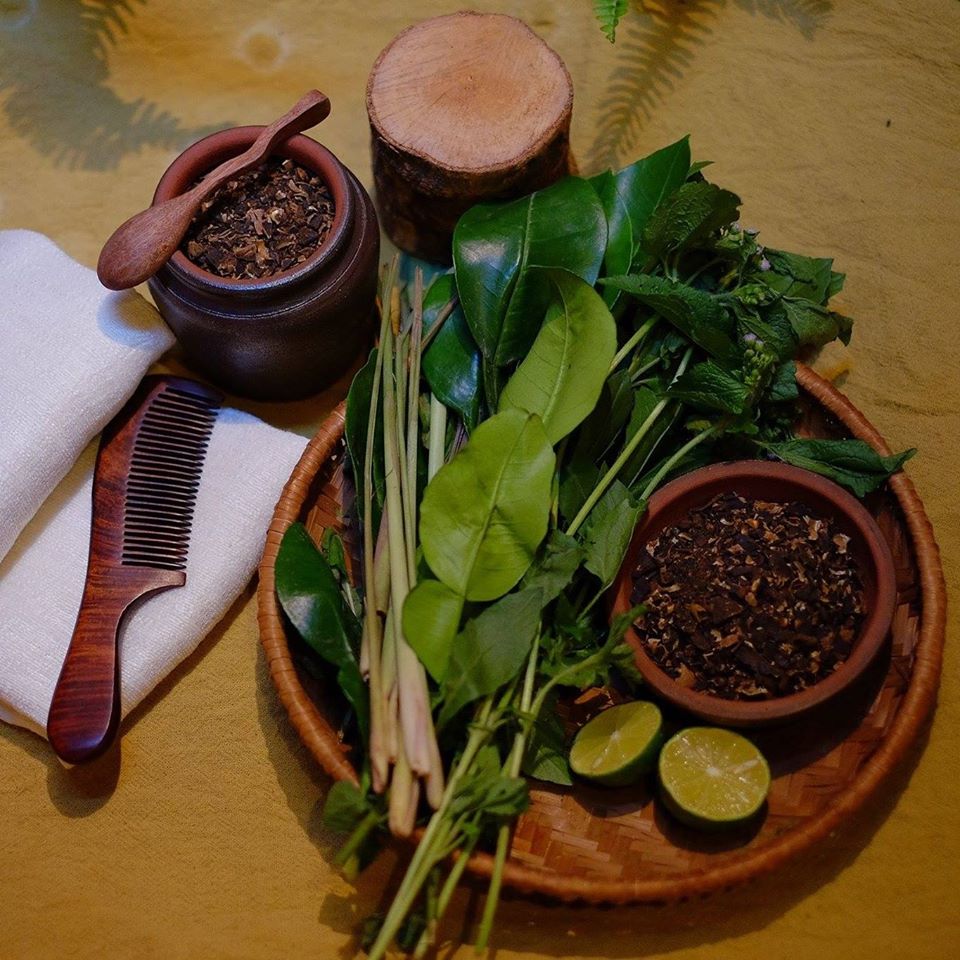 Have you noticed that Vietnamse country girls often have black, silky hair? It is because they use a special shampoo called "bo ket", made from lebbek tree. It can darken your hair naturally and make it become more satiny. This method is famous for its efficiency and safety due to the absence of chemical additives. Hence, it is regarded as traditional Vietnamese way to wash your hair, but it is difficult, even for local people, to experience this intriguing activity in big cities. However, you can visit Spa Que Mot Cuc to try it. This Spa is a cozy and lovely place located in the middle of Saigon. In addition to washing your hair in the Vietnamese way, you can take care of your facial skin with beauty products coming wholly from nature.
Address : No. 53, Tran Khanh Du Street, Tan Dinh Ward, District 1
Open time : 10AM - 9PM
2. Tipsy Art - Lớp dạy vẽ Tipsy
Do you think drawing is a talent you are born with or a skill you can develop to mastery? Tipsy Art believes in the latter. This is an ideal destination for both amateurs who have the passion for painting and those who simply want to relax by immersing in a tranquil activity. By joining a painting workshop at Tipsy Art, you are able to make a lovely picture with the devoted guidance of its supporting team. Moreover, you will have the opportunity to mingle with other Vietnamese people who share common interests with you in playing with brushes and colors as well as exploring multiple aspects of Vietnamese art.
Address : 6B Nguyen Canh Chan Street, Nguyen Cu Trinh Ward, District 1, HCMC
Open time : 9AM - 10PM
Price 400,000 VND
booking in advance at: https://tipsyart.vn/events?province=ho-chi-minh"
3. M.O.M Cooking Class
Within the recommended duration for a single course, you will be able to learn how to make traditional Vietnamese Food in this awesome cookery class. The staff are super friendly and the class is small so as to instill intimacy. The chef even takes you around and introduce all the local ingredients to you. At the end of the course you will be given the recipe, making it easy for you to retry at home!! Open seven days a week except Monday from 8.20 AM to 5 PM. Here is the official fanpage for you to check out the price and book in advance : https://www.facebook.com/cookingclassbymom
Address : M.O.M Cooking Class, 39A Co Bac | District 1, Ho Chi Minh City.
4. Noir. Dining in the dark
Have you ever notice that the look of your food strongly influences how you savor the flavor? Have you ever wonder how the dishes would really taste like without being seen? Is the aroma present in the dark even more tempting? Being capable of truly awakening your perception, this multisensory dining experience will stimulate all your other senses and open your mind. The truth is, your waiters and waitress are all visually impaired but very friendly and dedicated. Being in this unique sensory journey, you will discover a stunning truth that people always tend to eat food with their eyes, rather than with their palate. To find out more about the price and concept, check this out https://www.noirdininginthedark.com/
Address : 178 Hai Ba Trung, Da Kao Ward, District 1.
Opening time : 11:30 - 14:30 | 17:30 - 23:00
5. Jenng Nails - Làm móng Jenng
This place definitely helps you feel and look even more stylish. Whenever you become exhausted of Saigon's dynamic and noisy lifestyle, you can come here to calm your mind and your body. The profesional manicurists will give their best shot to soothe you. Choose any color of your nail polish – and they will make it work for you. Besides, as the team can speak both English and Mandarin, it's a plus point.
Address : 3 Truong Dinh Street, BenThanh Ward, District 1, HoChiMinh City
Open time : Monday - Sunday: 8:30 am- 9:30 pm
Price : VND 100,000 - 800,000