1. Vietnam sOOperbikes!
Vietnam sOOperbikes is an illustration project capturing funny moments happening every day in Vietnam created by Eisen Bernardo.
Not just Eisen himself but many foreign tourists are impressed by the huge number of motorbikes on the street. And more excitingly is the fact that bikers can carry loads of ridiculous things on the back of their bikes. Eisen's artwork is so realistic that even Vietnamese people nod their heads in admiration and laugh because they can see themselves in the illustration.
2. Sài Gòn sau vai (Saigon from behind)
Similar to the idea of the Vietnamese on-the-street culture of Eisen but Sai Gon sau vai illustrates those moments….but from behind. While riding his bike what he sees is someone else's back. And he can predict what their job is by the things they carry and their uniforms. So how many jobs can you spot list from the illustrations? This project went viral and received many plaudits from Vietnamese people.
3. Street Vendors /The Sidewalk Cuisine of Vietnam:
Street Vendors /The Sidewalk Cuisine of Vietnam project**
Street culture has become one of the Vietnamese's proudest traditions. Even the food in restaurants is not as attractive as street food. Most Vietnamese have become loyal customers of street food vendors. They know that this makes them love their country more than any other. @Ngan Nguyen and @Trịnh Anh, the two art illustrators of this project, shared that "the characteristic smell of Sai Gon did not come from fancy restaurants or well decorated coffee shops but from street vendors and carts filled with food and drinks".
4. A Vietnamese Tet Stock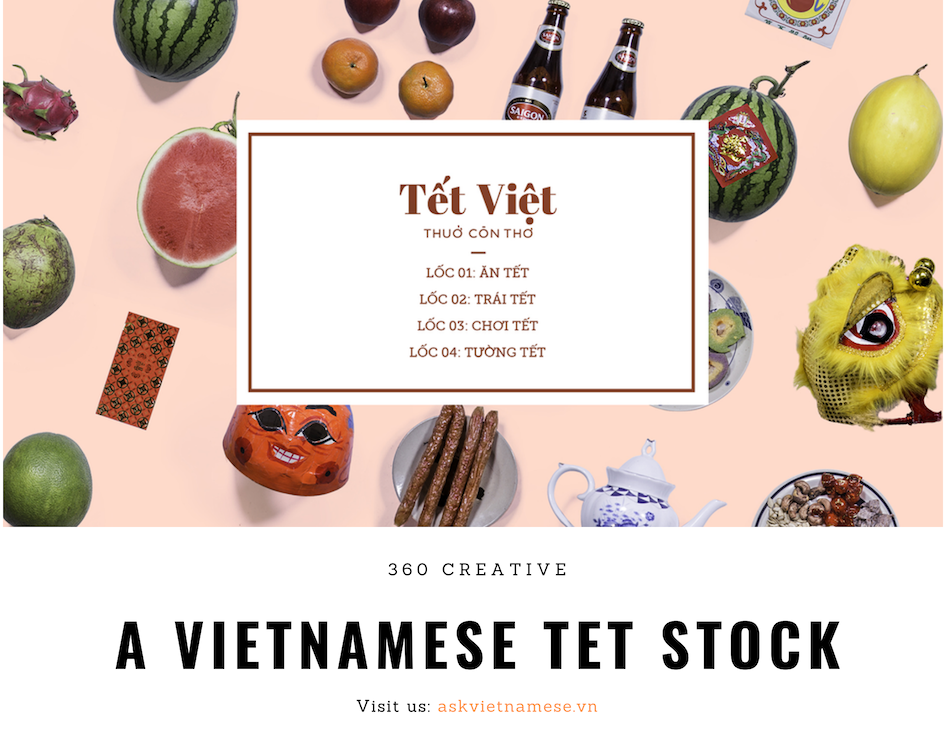 A Vietnamese Tet Stock project
TET!!!!!!!! It's the Lunar New Year Festival that Vietnamese, from kids to grandparents, greatly look forward to every year. The Vietnamese Tet Stock is a special collection of must have things for any family during the Tet holiday. This project categorizes Tet stocks into 4 groups which are Tet meals, Tet fruits, Tet games and Tet wall decorating. The first group has the traditional foods which are always prepared for every Tet meal with tea and other popular Tet drinks. The second group is about Tet fruits the names of which symbolise good luck for the coming year. The third one shows the interesting activities observed during the Tet holiday such as giving red envelopes containing lucky money, dragon dances, card games, . The fourth one involves the tradition of decorating the walls of the family home to make it colourful and special.
5. Sài Gòn 3 mét vuông (Saigon 3 meters squared)
Saigon 3 meters squared project
The "Saigon 3 meters squared" is created by a group of artists who want to show their love for Saigon (Ho Chi Minh city). This project illustrates the diversity of life in every corner of Saigon. For each 3 meters squared you can see a different aspect of life from China Town, old houses to the hair-cut stands and street food stands, etc. Like a living diary of childhood memories about beautiful Saigon, the artists want to keep it for their children "to learn about the city's remarkable culture". Because in the next 30 years, Saigon will not be the same as today.
6. A Taste of Hanoi
The "A Taste of Hanoi" Illustration introduces the six most popular Hanoi traditional dishes. Can you guess the names of six dishes? I think you can recognize the Bun Cha which President Obama enjoyed when he visited Vietnam and Pho, the most famous Vietnamese food. The others are Com Vong (a special dish made from rice kernels, slightly sweet with a nutty flavor), Banh Tom (Fried Shrimp Cake), Banh cuon (Stuffed Pancake), Bun oc (Snail Noodle). So why don't you put these dishes on your what-to-eat list?
7. Vietnam Little Quarter
Vietnam Little Quarter project
When I was in the UK, I was surprised that most houses look similar to each other from outside, just like the duplicate of one single design. However, in Vietnam, you can make a great topic about houses because every house in Vietnam has its own style. "Vietnam Little Quarter is a collection of many and many interesting houses in Vietnam. The reason why Vietnam Little Quarter come to us is that Vietnamese seem to pass by the beauty of things that they get used to see everyday and in this case, houses"
Proofreader: Mr. Alex Curtis, Civil Servant UK