You love Vietnam? I know it. I also recognize that you tend to imagine Vietnam through fabulous pictures advertised on the Internet by tourist companies. However, have you had a chance to look at a very-rustic-and-different Vietnam more closely? Some photographer accounts below may help you to catch a glimpse of it.
1.Instagram: Nhatlq - contrast lover
He loves capturing the special moments of Vietnam's colorful festivals. Most of the time, the laborers' daily life is the area of focus for his images.
He likes catching the contrasting moments between people and other things surrounding them.
It seems to me that his pictures are filled with sorrow and isolation.
Facebook: Thái Bana – ethnicculture keener
https://www.facebook.com/profile.php?id=100017034930542
Vietnamese ethnic groups are the themes throughout this photographer's pictures. You may be surprised when seeing the vivid and wild eyes of a child or the magical traditional festivals and activities of the ethnic minorities of Vietnam in his images.
Not many photographers have the ability to show and describe these features successfully like him. Thanks to these photos, you may understand more of the ethnic culture of Vietnam, which is extremely interesting and mysterious, I believe.
3. Instagram: _dnguyenvsp – Hanoi enthusiast
https://www.instagram.com/__dnguyenvsp/
Although the Photographer is a very young man, his images of Hanoi don't give the impression of someone so youthful. You can become lost in the old and ancient sights and features of Hanoi, which you don't really have in other parts of Vietnam.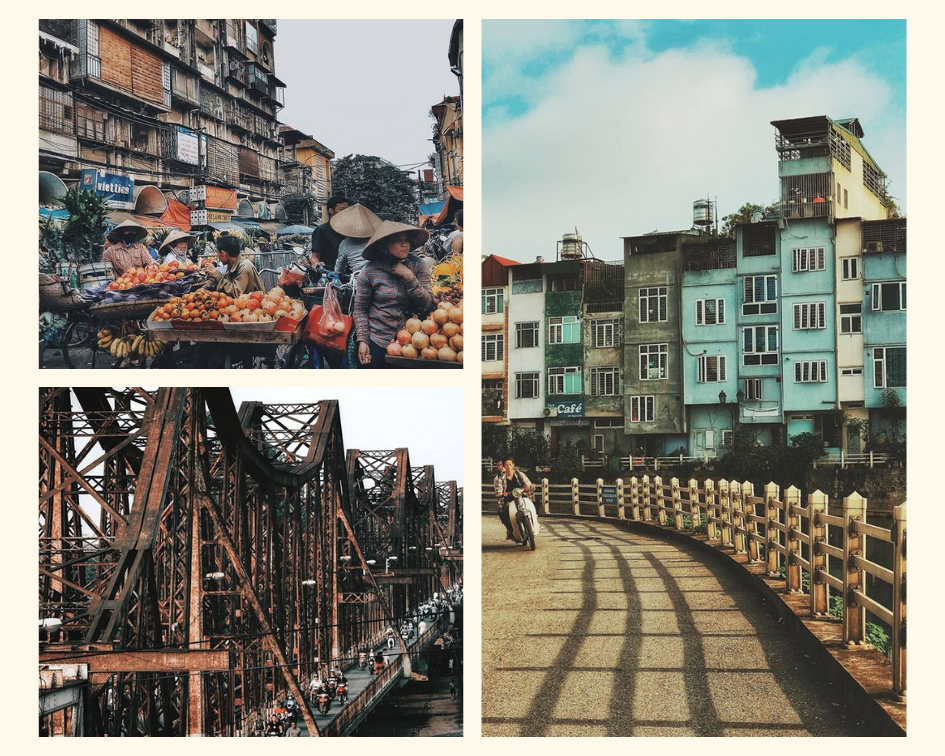 4. Facebook: Trần Bích Sen – green lotus
https://www.facebook.com/bichsen.tran
While he was an entrepreneur, the Photographer fell in love with the lotus flower and quit his business life. Since then, he has spent most of his time taking photographs of our treasured flower so much so his nickname is also "Lotus".
He travels around Vietnam and attempts to spot fabulous and special lotus ponds and it pays off when he sets the benchmark for capturing extraordinary images of lotus' in Vietnam. And you may already know, the lotus is the national flower of Vietnam due to its unique qualities.
5. Facebook: Trần Tuấn Việt – Grey of Vietnam
https://www.facebook.com/vietsui?sk=photos
Have you read the well-known book called Fifty shades of grey? Whether you have read it or not, we introduce its other version: Fifty shades of Vietnam through spectacular images taken by Trần Tuấn Việt.
This Photographer admits that he is an amateur but he has an immense passion for photography. He wants to bring identity of Vietnam to the front. Therefore, the theme of his work is about the traditional activities of Vietnamese laborers which are repeated throughout his work.
6.Facebook: Đông Giang – modern-life supporter
https://www.facebook.com/sun.chymjang
I did't purposely omit female photographers in this article, but I have to admit that maybe my own ability in photography is limited and I can't find any noted female photographer accounts in Vietnam. Do you mind about that?
The last photographer I want to introduce to you in this topic is Dong Giang. His pictures don't tell you about ancient Vietnam or the mysterious or traditional side of Vietnam but rather the modern and dynamic view of Vietnam. He is keen on taking pictures of Ho Chi Minh city in particular an animated, full-of-lights side of the city.
Proofreader: Mr. Alex Curtis, Civil Servant UK