The south-west part of Vietnam, also known as Mien Tay, is renowned for its beautiful landscapes and exquisite cuisine as well as boasting another special feature - the local people. The locals living there are so nice and hardworking. I hope this article will give you some useful information before you travel to the Mien Tay region.
Day 1: Sài Gòn – Tràm Chim – Châu Đốc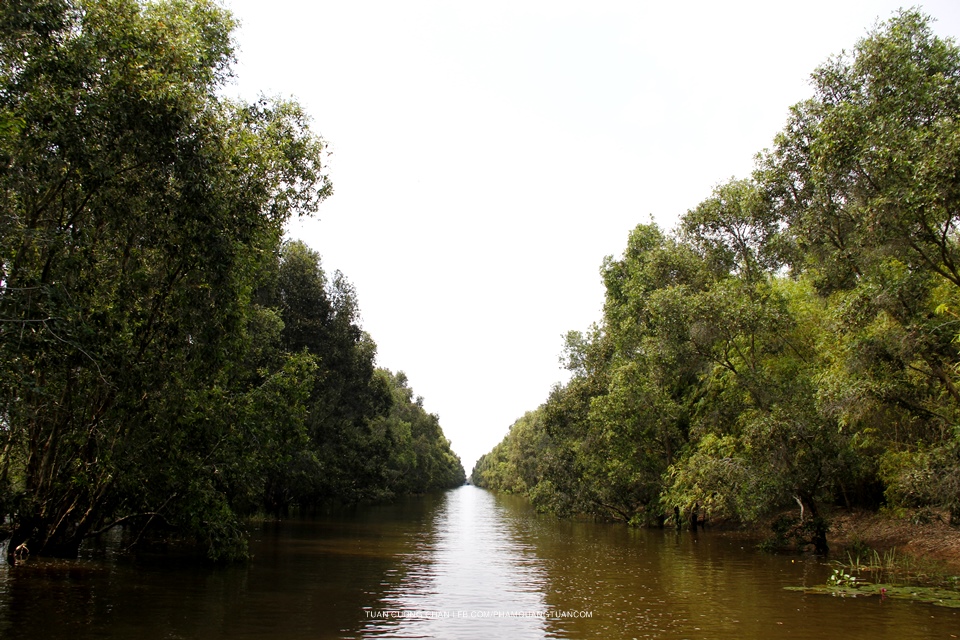 Tram Chim National Park
Tram Chim National Park, where there are many migratory birds, especially in December when the number of birds becomes much larger. For a fee of 800.000VN for hiring a boat which is capable of holding up to 12 people, but if your group is smaller you can ask to join other groups. The boat will take you around the national park first, then it goes deep inside the forest, where it is said that there is a restaurant, a place to enjoy lunch within the vast expanse of forest.
Bung Binh Thien for seeing the sunset
Sunset in Bung Binh Thien
Chau Doc City, Bung Binh Thien Lon (Big Bung Binh Thien) is the biggest natural fresh-water lake in Mien Tay. There is no tourist boat hire service yet, but you can ask the local people to rent one, and they may take you to the centre of the lake to watch the sunset.
Day 2: Chau Doc – Tinh Bien – Tra Su – Nui (Co) To
A bowl of Fish Rice Noodles – a speciality from Chau Doc City is delectable. After breakfast, you can ask the local people for directions to Tinh Bien border market which opens in the later part of the morning. There is only one road leading to the market on Cambodian's border, with both sides surrounded by immense rice fields some interleaved with jagged rocks, a very special landscape in An Giang.
The Melaleuca forest
Tra Su is a popular place for travellers in Mien Tay (Mekong Delta Area). The Melaleuca forest tourist centre is deep inside, so you can hire a mechanical boat for 10 people, and if you are going even deeper into the forest, there will be another boat to take you to those places.
There are restaurants in the Tra Su forest, some quite expensive, serving many Mien Tay specialities such as grilled mouse, smoked grilled trout, Dien Dien flower hot pot. Take a rest here before undertaking the next part of the trip.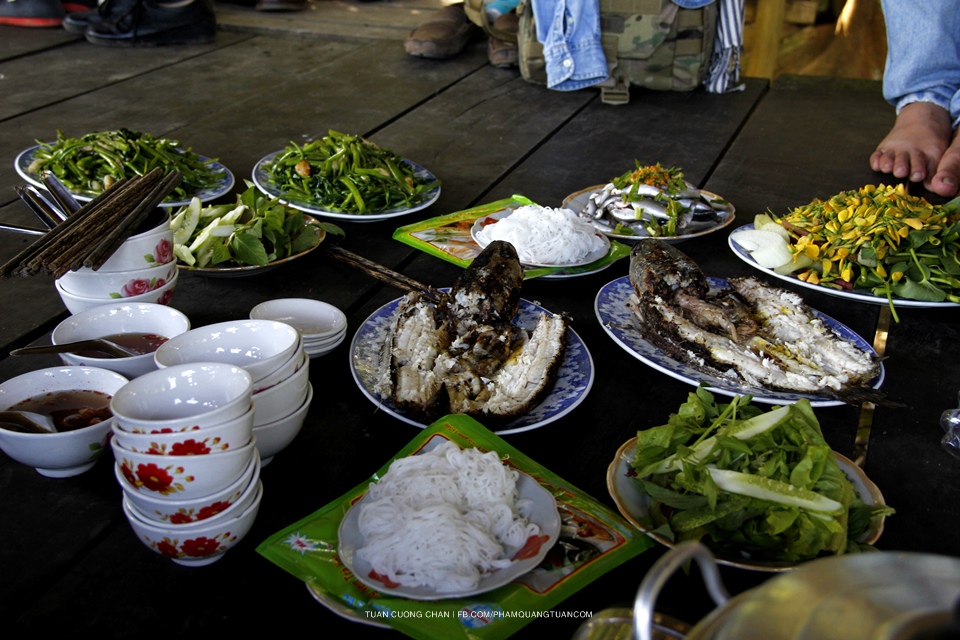 Lunch at The Melaleuca forest
Evening stop at Ta Pa lake, Tô mountain
After lunch in the Tra Su forest, you can leave the forest and head to Ta Pa mountain. This is a very beautiful artificial lake, you can see the awesome rice fields separated by Palmyra palm trees. Everything looks so peaceful at this lake.
After sightseeing at Ta Pa lake, you descend Ta Pa mountain and ask the locals the way to Tô mountain. You can search for Suoi Vang - Soai So tourism where Tô mountain is located. You should aim to arrive at the mountain at night as staying overnight allows you to bring food and drink to have a BBQ party.
Day 3 : Tô Mountain – Ba Chuc – Ha Tien – Hai Tac Island
The way to the summit of the mountain is rough and tough, the road only wide enough for one motorbike in either direction or you can walk. Foreigners are not allowed to drive by themselves so you can ask a local to drive you to Little Dồ Hội (or Vồ Hội) by motorbike, where a night in a dormitory costs approx. 10.000 VND /per person. You can borrow cooking utensils to make your own meals.
Sunrise in To mountain
Chao Long Bo for breakfast, along the border to Ha Tien
After descending Tô mountain, head to Ba Chuc, which is known for its cow race festival. It's about 23 kms away and if you depart in the early morning, you can have a breakfast of beef offal porridge (Chao Long Bo). From Ba Chuc, ask local people the way to Ha Tien town, which is 60 km long. The road runs along the border with Cambodia and is a very beautiful sight as a river runs parallel to the road.
Hai Tac Island, Ha Tien
Hai Tac Island
Ha Tien is in Kien Giang province, a very beautiful place for travellers in the Mien Tay region. In Kien Giang, there are a lot of awesome islands such as Nam Du and Phu Quoc. To save time and money, from Ha Tien you can visit Hai Tac Island for one night. You buy a ticket at Ha Tien dock, which costs 40.000 VND for a one way ticket with departure at 2pm and you can take a rented motorbike. When you reach the island, you should look for Mr Thuan's house where you can stay on a self-catering basis for 40.000/per person per night. Early next day, you should arrive at the dock before 9am when the early boat back to Ha Tien departs.
Day 4,5 : Ha Tien – Ca mau
It's about 280 km from Ha Tien to Dat Mui Ca Mau and you can visit Rach Gia city along the way, visiting U Minh Thuong forest for a night's stay and do some sightseeing there.
Beautiful road in U Minh Thuong
From Ca Mau to Nam Can, you can rent a local boat to take you to Ca Mau, which is cheaper than going by express boat and there is more landscape to see and therefore altogether a better experience.
Day 6,7 : Can Tho floating market at sunrise
It's about 200 kms from Ca Mau to Can Tho, and you should arrive at Can Tho by sunset and stay there for a night, in order to visit Cai Rang floating market in the morning. In addition, in Can Tho, you can try Banh Xeo (Vietnamese Savory Crepe) and visit the place where rice noodles (Hu Tieu) are made.
Thanks travel blogger Tuan Cuong Chan for sharing his experience with Ask Vietnamese.
Read more details of this trip at: http://www.cuongchan.com/kinh-nghiem/du-bui-lich-mien-tay.html
Proofreader: Mr. Alex Curtis, Civil Servant UK
Photos credited to Tuan Cuong Chan