A chilled-out mind never stops seeking and no traveller should be turned on the while time. And in Saigon, what people need more than ever is practising the art of doing nothing but sipping cups of beer, downing shots of spirits or even just strong coffee all night. If you want to try a taste of the Saigon chilled-out vibe, you've got to hit up the list down below!
Chill Skybar
Chill is known as the pioneer of the "sky bar" concept in Vietnam. It is perched atop the luxurious and elegant 27-floor AB tower. Order yourself a cocktail and "chill" with the beat, in the embrace of Saigon at night.
26 & 27th Floor Rooftop, AB Tower, 76A Le Lai, District 1, HCMC Time: 17h30 - 02h00 200.000VND - 550.000VND
The Corked Tales Bar
The concept of Corked Tales is inspired by myths of magical creatures. Corked Tales Bar has a day menu and a night : The Sun and The Moon. The main concept of the menus are creative twists on classics offerings, designed as the elements of life: air, water, earth, fire, metal and wood.
The 1st Floor, CJ Building, 6 Le Thanh Ton, District 1, HCMC Time: 10h00 - 01h00 50.000VND - 500.000VND
The ATM Bar & Kitchen
The ATM bar brings a romantic space with deep orange tones and artfully decorated paintings. On a few evenings each week, the ATM has an acoustic concert with a gentle saxophone soloist. Great classic cocktails and Western cuisine.
27/10 Nguyen Binh Khiem, Dakao Ward, District 1, HCMC Time: 12h00 - 05h00 / Closed on Sunday 60.000VND - 300.000VND
TNR Saigon
Since 2008, TNR Saigon has been an underground bar just off Bui Vien Street in District 1. It has neighborhood vibes which feel like home, and you can always count on cheap booze, low lighting, a wonderfully surly bartender or two, and the best value craft beers till 5am.
57 Do Quang Dau, Pham Ngu Lao Ward, District 1, HCMC Time: 20h00 - 04h30 50.000VND - 200.000VND
Home Pub
Home Pub is a pretty good bar for a more demanding crowd. Coming to Home Pub, you will be immersed in extreme EDM Trap music. True, Home Pub's drinks are nothing special but the music and atmosphere here will ensure you have a crazily fun time.
2Bis Cong Truong Dan Chu, District 3, HCMC Time: 20h00 - 03h00 200.000VND - 500.000VND
Bui Vien Beer Street
Bui Vien Street in Ho Chi Minh City has become well known in the last 6-7 years, as a street for foreign backpackers that no tourist can miss visiting, along with the many other famous Vietnamese tourist spots on a tour of Saigon. On Bui Vien street you will find many bars with a view of busy city life. Not just for drinking beer and chatting, tourists can enjoy street performances that include singing and dancing.
Bui Vien Street, District 1, HCMC Time: extremely busy starting from 8pm
Pasteur Street Brewing Co.
PSBC is proud to be among the first craft breweries in Ho Chi Minh City. It was a love of Vietnam and the Vietnamese beer-drinking culture that brought PSBC to life. Their brew masters and brewers expertly blend the art and science of brewing to create the unique flavour profiles you can taste in every glass of PSBC beer.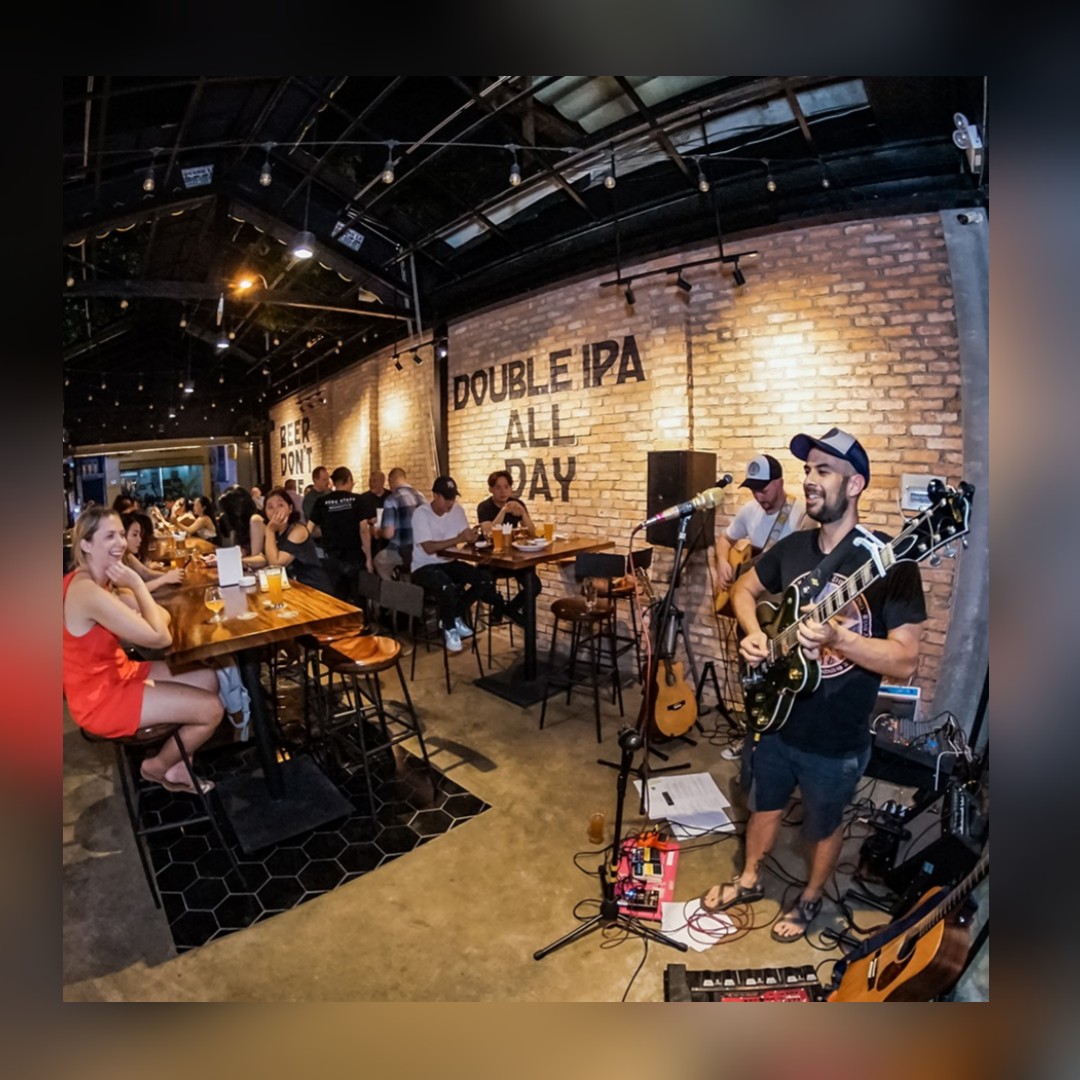 144 Pasteur, District 1, HCMC Time: 16h00 - 21h00 50.000VND - 200.000VND
Game On Sport Pub
Bringing live & loud sports to Saigon is what Game On is all about. Game On has been supplying Saigonese with the best live sporting streams in Ho Chi Minh City since 2013. They have some great pub food and a great selection of local and speciality craft beers which are always served ice cold. 81 Nguyen Cong Tru, District 1, HCMC
Time: 8am till late everyday 200.000VND - 400.000VND
Hoa Vien Brauhaus
HoaVien Brauhaus is the first brewery restaurant model in Vietnam, bringing high-quality beer to their customers treated as value guests, creating cultural/food/drinks exchange opportunities and propagating the concept about the Czech Republic's brewery tradition - one of the greatest prides of the Czech people.
18Bis/28 Nguyen Thi Minh Khai, District 1, HCMC Time: 9h00 - 23h00 200.000VND- 350.000VND
Belgo (The Belgian Craft Beer Brewery)
Belgo is Surrealism and cosy atmosphere blended together. The beers are delicious and there are always new cool special editions. Their cook collaborated with several local breweries and searched for the right match between food and beer, aiming at offering unique pairings.
159A Nguyen Van Thu, District 1, HCMC Time: 10h00 - 23h00 50.000VND - 200.000VND
Proofreaders:
Ms. Sarah Morrison - Librarian at The American International School, HCMC