Vietnamese people usually say: If you travel to Hoi An, Quang Nam but you haven't eaten Quang noodles before yet, it's presumed that you have never really been there. Honestly, Quang noodles represent the soul of people here: natural and rustic, it is recognized as one of 12 unique dishes of Vietnam by Asian Record Organization. But if you only have time to visit Saigon and desire Quang noodles, don't worry we will show you the places in this city to enjoy it.
Are you looking forward to trying some anywhere in Sai Gon? Hold on, you should know how a "real" bowl of Quang noodle is properly made first?
Maybe you are impressed by the harmonious combination of colors and materials of Quang noodles when trying the dish for the first time. It has the yellow of noodles, red of shrimps, white of quail eggs, grey of pork and peanuts and green of spring onion. How colorful a bowl of Quang noodles can be! And the special thing makes it more tasty and also different from other noodle soups is "nước nhưn" (broth). While other noodle dishes have the broth covering the noodles almost completely, Quang noodle's broth is at the same level as the noodles. A yummy bowl of it depends on the art of making broth by each chef, although they usually use pork bone to make it.
A drawing of Quang noodle from a person loving Vietnam dishes (Credit to Lerin)
A bowl of Quang noodle is incomplete without a dry pancake and a variety of herbs and green or red chilli. Let yourself imagine, you are eating first Quang noodle dish and the combinations of the slightly sweet and spicy flavour of the broth with shrimps; a little bit of sourness of lemon; the butteriness of peanuts; the crispness of the dry pancake and the freshness of vegetables melt in your mouth appetizingly. Frankly, it is so tempting that I can't help myself thinking of eating a bowl of Quang noodles as soon as I finish this writing.
Not only are Quang noodles savoury but their origin tell an extremely interesting story. Our forebears said that: In feudalism in Vietnam, there was a princess whose name is Huyen Tran, she married the king of a neighbouring country in order to establish a peaceful relationship between the two countries. But her husband died suddenly and in accordance with the kingdom's law, she had to be buried with the king's other imperial maid. In order not to lose his beloved sister, Huyen Tran's brother – King of Dai Viet sent a man to bring her back to her native country. And in the Danh village of Quang Nam, Huyen Tran was granted 32 mau of good land (each mau is about 3600 square metres) and then she granted the locals 28 mau of land to grow rice and make Quang noodles. And so this was how Quang noodle was born!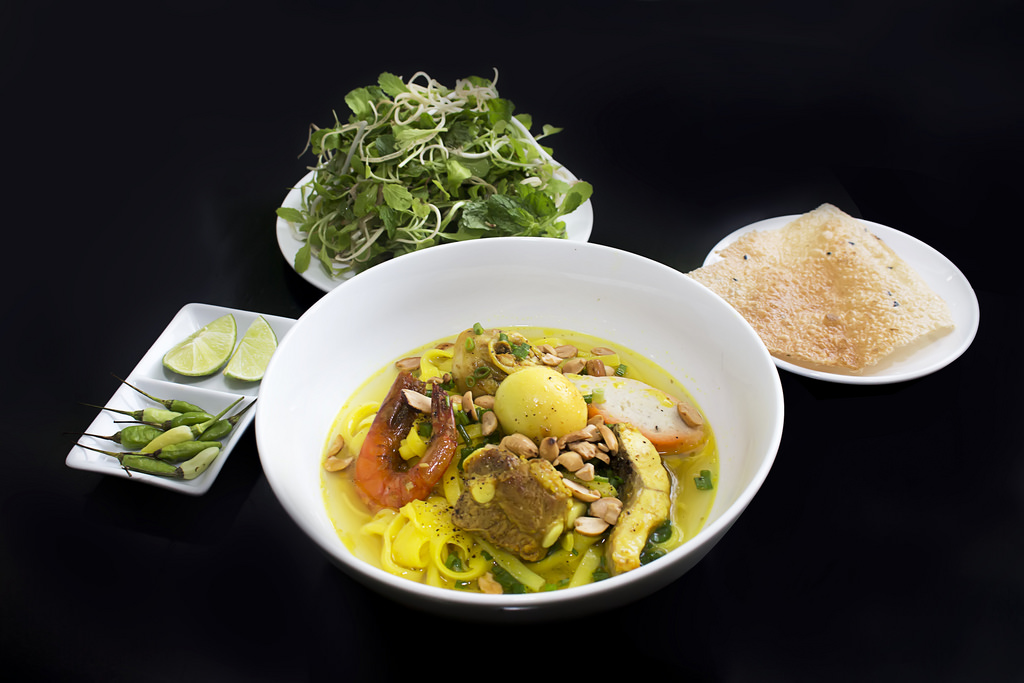 Have you decided to try Quang noodles after reading this? (Credit to khang dinh)
Now, where can we eat a good bow of Quang noodles? Honestly, in Saigon, Tan Binh District is a place where a lot of Quang Nam people live, so Quang noodle is popular here. By trying one of our recommended restaurants listed below, you can enjoy a delicious bow of Quang Noodle. And, don't forget to say "My Quang" (its pronunciation is slightly similar to the way you say "me want" in English) when ordering to make a good impression on the owner,and maybe you will get a discount, who knows? :D
*My Quang Sam – 6 Ca Van Tinh street, Tan Binh district, HCMC
My Quang Tri Hoi An – 136 Bau Cat street, Tan Binh District, HCMC
*My Quang Qua Toi – 281/11 Le Van Si street, Tan Binh District, HCMC**
In addition, you can eat Quang noodles nearly everywhere in Saigon :D such as:
My Quang 85 – 85 Tran Quang Dieu street, District 3, HCMC
My Quang Bui Dinh Tuy – 125/39 Bui Dinh Tuy street, Binh Thanh District, HCMC
My Quang Do Do – 10/14 Luong Huu Khanh street, District 1, HCMC (The owner of this restaurant is a famous writer who was born in Quang Nam and most of his work is about Quang Nam)
Featured Image: My quang Ba Mua