If you don't want to be burned to a crisp by the astonishingly hot and dry weather, you should not plan to come to Hanoi in the summer, particularly June and July.
Ok, maybe I exaggerate a little bit, but the climate during this time is extremely harsh, there is even a Vietnamese popular song about it which is called: "Why do we have to put on clothes in such hot weather?" I was born in the Central region of Vietnam which is well-known for its excessive heat combined with a dry wind, but to be quite honest, I cannot stand this time of year in Hanoi.
However, if you are visiting here during these hot months and are unable to put it off, how you can do something to prevent the oppressive weather from devastating your skin or even your holiday spirit?
It seems to me that the first thing you need to do is to wear as little as possible!
Haha, I'm just kidding, but it's an idea, isn't it?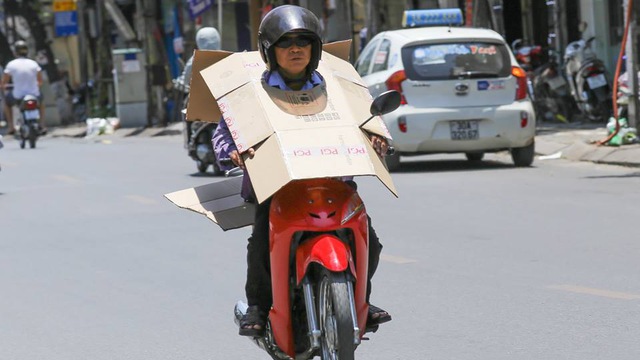 Hanoi people avoid the heat (Credit to Soha)
The second thing, keep yourself cool in the air conditioned atmosphere of your hotel room, a café, a shop or anywhere equipped with air-conditioning all day long. Thus you can survive the heat and avoid wasting the astronomical cost of your airfare to Hanoi.
You may have heard about the book called "the Country of girls wearing flowery coats" by a German Author, who wrote about the "ninja wearing style" of Vietnamese woman when driving. Oh yes, dressing like a ninja definitely helps you to protect yourself from the sun's rays.
Dress like the ninja (Credit to Eva )
Moreover, avoid going out during the hottest hours of the day, which are from 11 a.m. to 1 p.m. Especially, try not to be tempted to have ice cream and cold water all the time to reduce your thirst, as this will make you susceptible to being sick.
So, hope you maintain a cool mood during the hottest days in Hanoi.
Image Featured: Petrotimes
Proofreader: Mr. Alex Curtis, Civil Servant UK